A skilled facilitator makes sure project workshops are productive, engage all participants, increase alignment, and support an effective decision-making process.
Facilitators should always be "neutral" on the content of the workshop or meeting. With most project assurance practices, this means the Facilitator should not be a team member.
Facilitation is also a critical skillset for Project leaders who need to be both a decisive decision maker and know when to use a collaborative process and a facilitative approach to achieve strong team alignment.
The Role of a Facilitator
The mission of a Facilitator is to enable a group to reach a conclusion they would have difficulty reaching on their own.
Tips to being an Effective Facilitator
Begin with an understanding of group decision making and group dynamics.
Any well planned meeting will have an agenda but facilitating an effective meeting to support group decision making also requires a facilitation strategy.
A facilitation strategy starts with determining the "purpose" of the meeting, how the information is to flow and what the expected outcome should be.
To accomplish the purpose of the meeting, specific facilitation techniques, principles and tools can be used to support the process.
Utilize technology and tools to engage participants, capture and visualize information.
Effective facilitators are essential in the capital project lifecycle, but facilitation is a skill that's often overlooked.
Studies by the Construction Industry Institute (CII) indicate that strong project team alignment drives predictable project outcomes.
Establishing and maintaining strong team alignment requires a commitment to a project culture that fosters effective leadership, communication, and trust.
Part of building this type of project culture is a foundational skillset which includes facilitation.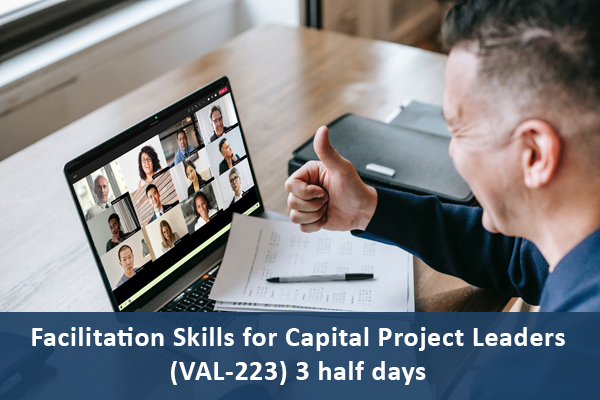 Nov 2 @ 10:00 am

-

Nov 16 @ 2:00 pm

EDT

at Virtual Classroom
Upcoming Courses & Webinars
Nov 2 @ 10:00 am

-

Nov 16 @ 2:00 pm

EDT

at Virtual Classroom
Frequently asked questions about Facilitation
What types of capital project workshops require a facilitator?
Larger and more complex workshops that require strong participant engagement and collaboration benefit the most from a strong facilitator.
Some examples of workshops and meetings that would benefit from a skilled facilitator include:
Advanced Work Packaging (AWP) Workshops
Brainstorming Sessions
Construction Readiness Assessments
Lessons Learned
Options Analysis
Partnering Sessions
Project Definition Rating Index (PDRI) Assessments
Risk Assessment
Strategic Planning
Value Engineering
Who within the project organization would benefit from facilitation training?
Many individuals within the organization would benefit from developing their facilitation skills. Facilitators should be neutral on the content of the workshop or meeting but have a general understanding of the types of projects and processes involved. Facilitators could be project leaders outside of the project in question, Members of the Project Management Office (PMO) or Center of Excellence (COE) or even from within the Administrative organization.
Some additional examples of typical workshop leaders include: Program Managers, Project Managers, Design Managers, Designers, Project Engineers, Construction Managers, Technical Managers, Business Unit leaders, Site Supervisors, Operations leaders, Contract Administrators, Maintenance Managers, Risk specialists, Procurement professionals, Quality specialists and others
What are some common challenges of facilitation?
There are many challenges to achieving the meeting objectives:
Potential for pre-existing conflicts between stakeholders to emerge during discussions.
Group decision making by nature means that people will come to the table with different and often competing priorities.
Complicated group dynamics will emerge, especially as you work through understanding a wider range of new and sometimes opposing ideas.
It takes time to give everyone space to explain and understand all perspectives.
And of course, we have different personalities to consider.
How can facilitation skills be developed?
Building facilitation capacity within your organization requires a combination of formal training, mentorship and facilitation assignments (practice).
The virtual, instructor-led course "Facilitation Skills and Techniques for Capital Project Workshops" is an interactive facilitator training course developed specifically for project leaders in the construction industry.
In addition, Valency's experienced facilitators can provide mentorship in leading workshops such as PDRI or Construction Readiness Assessments.
The team at Valency has supported many organizations in developing skilled faciliators. Let's talk about how we can support your organization.
Contact Us
We build certainty into your Capital Project Life Cycle.