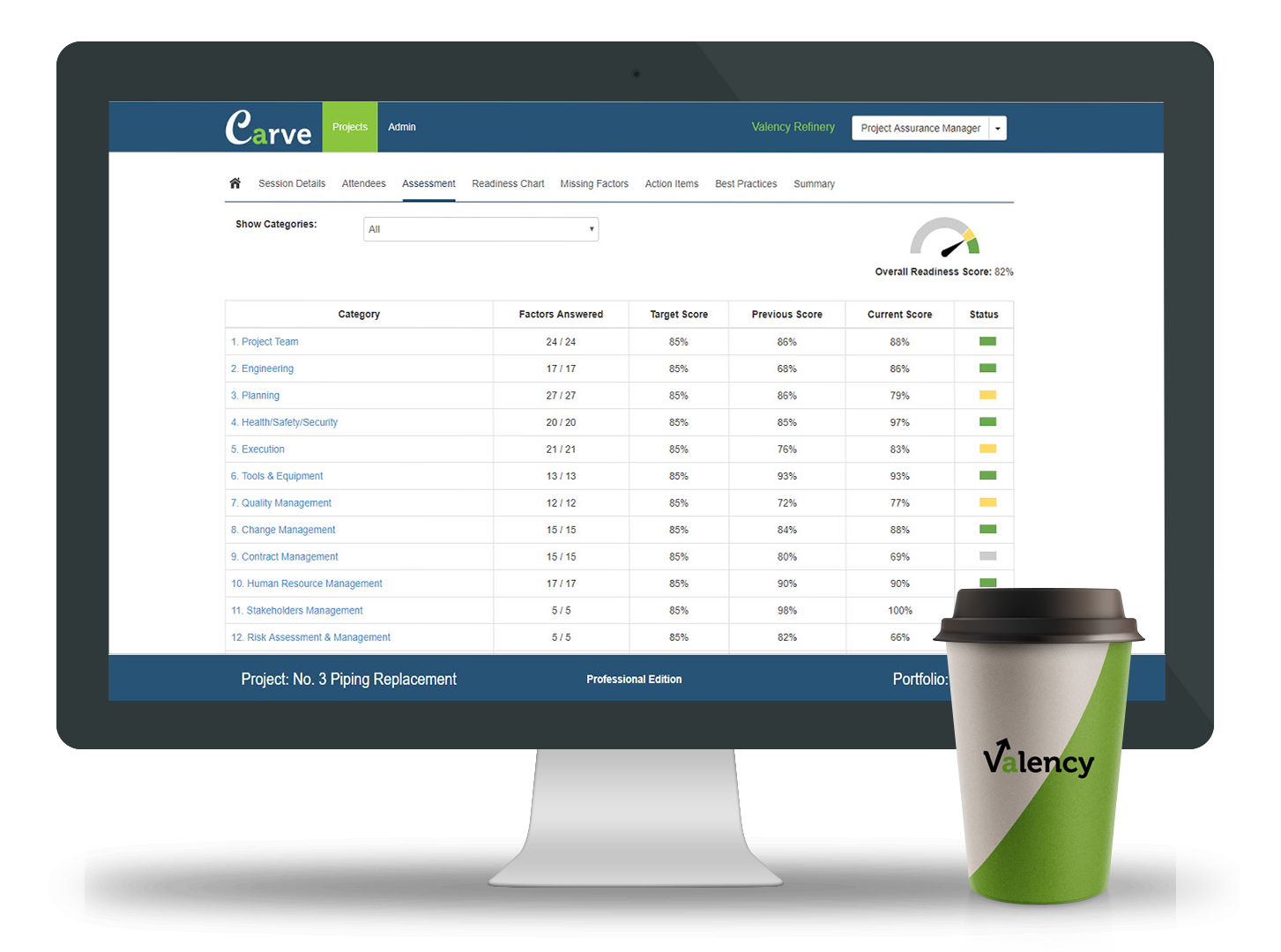 Ensure a productive start to construction
Carve is a cloud-based application designed to support your adoption of the Construction Readiness Assessment process to ensure a productive start to construction.
  Conduct efficient construction readiness assessments starting early in
Detailed Design
  Identify categories that need improvement
  Prioritize action items to address the gaps
  Re-assess progress until you achieve construction readiness based on
CII industry benchmarks
  Review key performance indicators with Carve's pre-built analytics for construction readiness for continuous improvement efforts
If you already have a Carve account, click here to log in.
Carve for Construction Readiness addresses project readiness needs for…
Carve for Project Managers & Construction Managers
Carve provides a standard and objective process that easily identifies the gaps that must be addressed to achieve readiness and ensure a productive start to construction.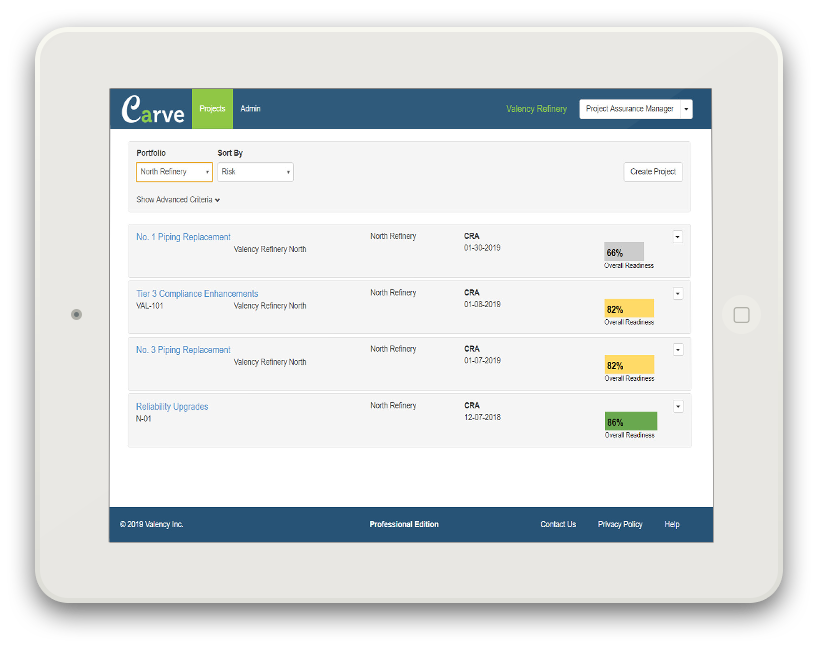 Project dashboard highlights overall risk
Engage your project stakeholders in a visual manner that easily highlights the level of readiness at the overall project level as well as at the category level. 
Your data can be filtered in many ways to give you the summary view needed to support your decision making.
Easily identify areas that need improvement
The readiness scores are updated in real time as you proceed through the assessment. The readiness level is indicated with colours so participants have a an easy and clear visualization of the current score.
The overall readiness score is indicated with a gauge allowing you to see your status according to industry guidelines.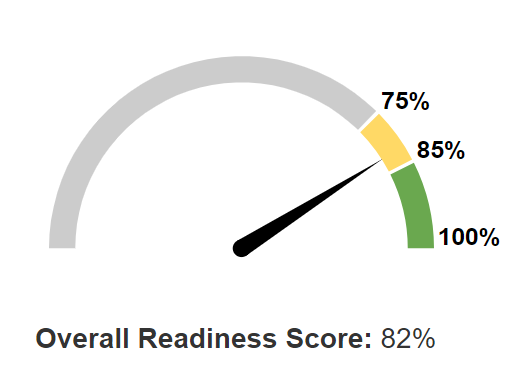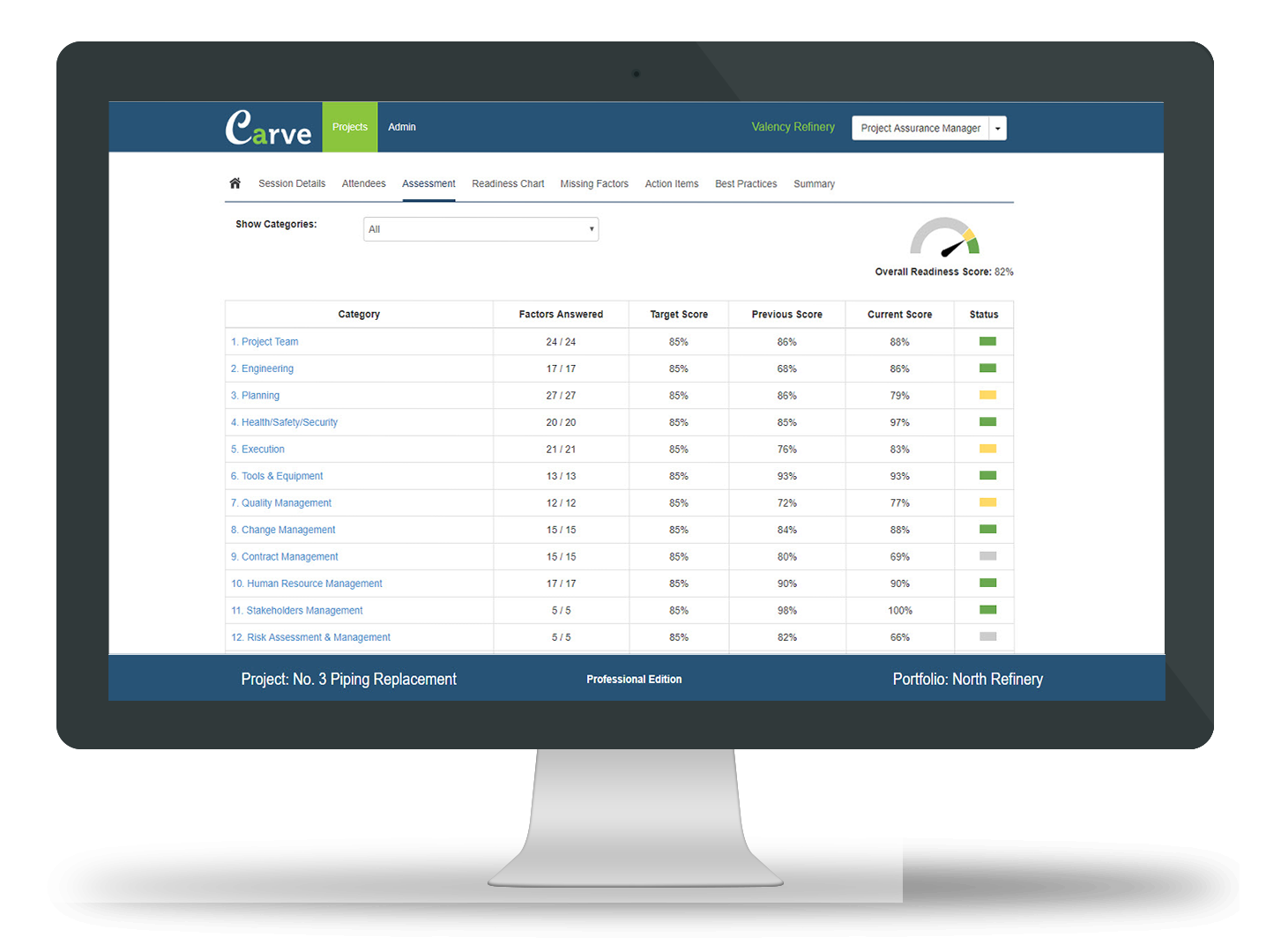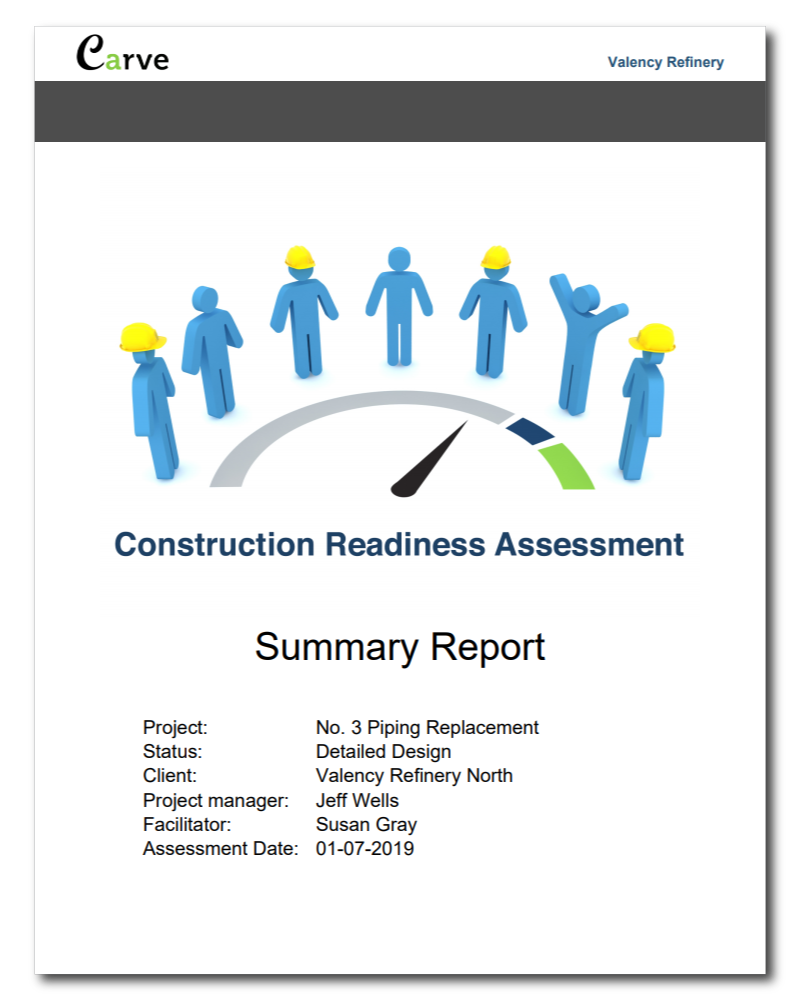 PDF summary report to help align Project Leaders and Owners
Generate a concise summary report allowing project stakeholders to make decisions based on facts.
The report includes:
A summary of the assessment results overall and broken down by category
A list of missing/incomplete elements
Attendees
Action items
The application and the resulting report provide a consistent application of the practice across the organization. The centralized data supports comparison and analysis of construction readiness scores across an entire project organization.
Customize Construction Readiness template
The ability to configure the Construction Readiness template and related aspects such as terminology and scoring ranges helps address the most significant barriers to introducing a change in process and make it fit-for-purpose to your organization.
Some common considerations for custom configuration include:
Departmental/unit considerations (e.g. names, roles, responsibilities)
Policies and procedures within the organization
Gate deliverables and project phases
Regulatory requirements
Industry-specific terms
Language translations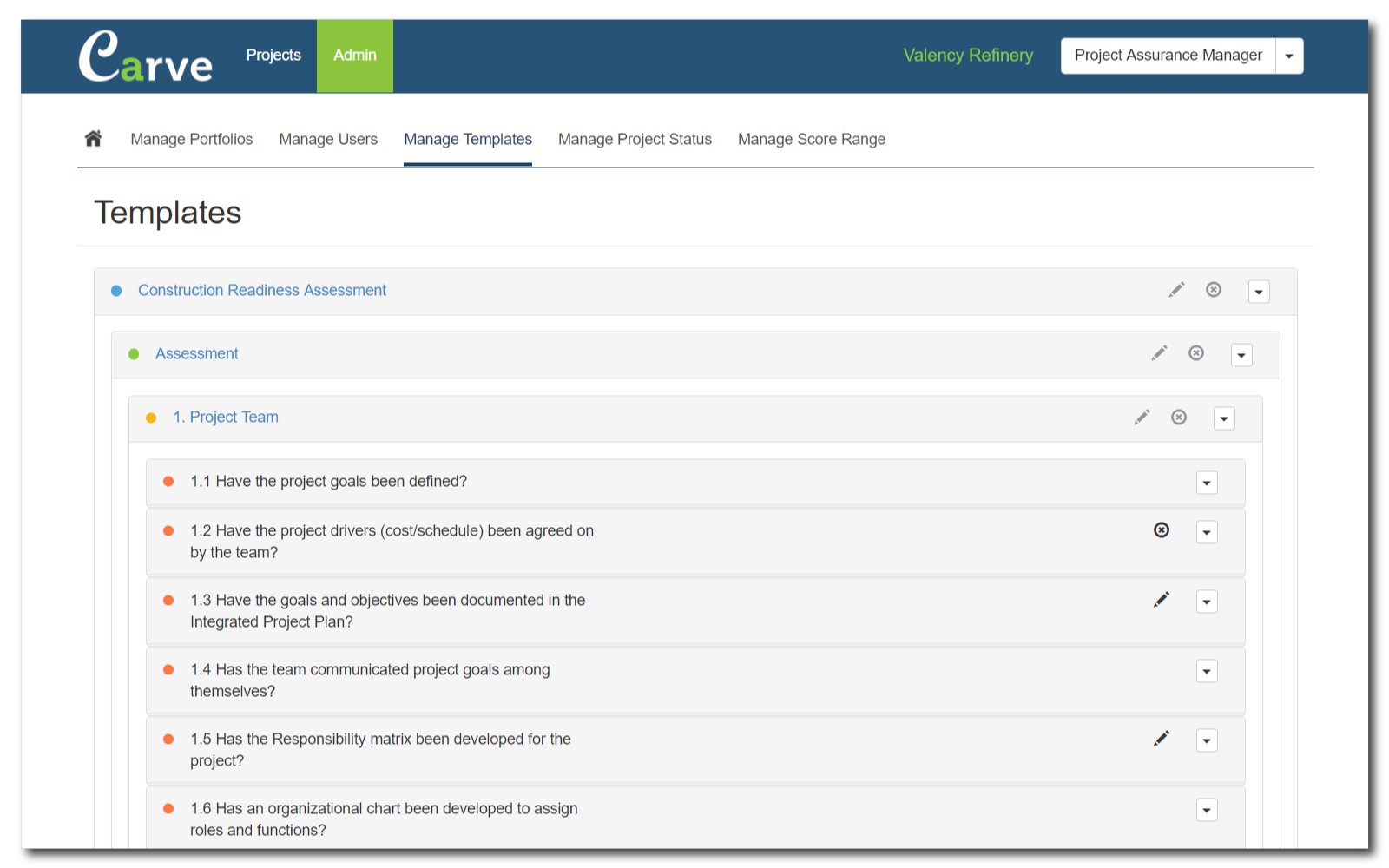 The Construction Readiness Assessment gives you a consistent and objective process to measure readiness which can reduce the chances of cost and scheduling overruns in the construction phase.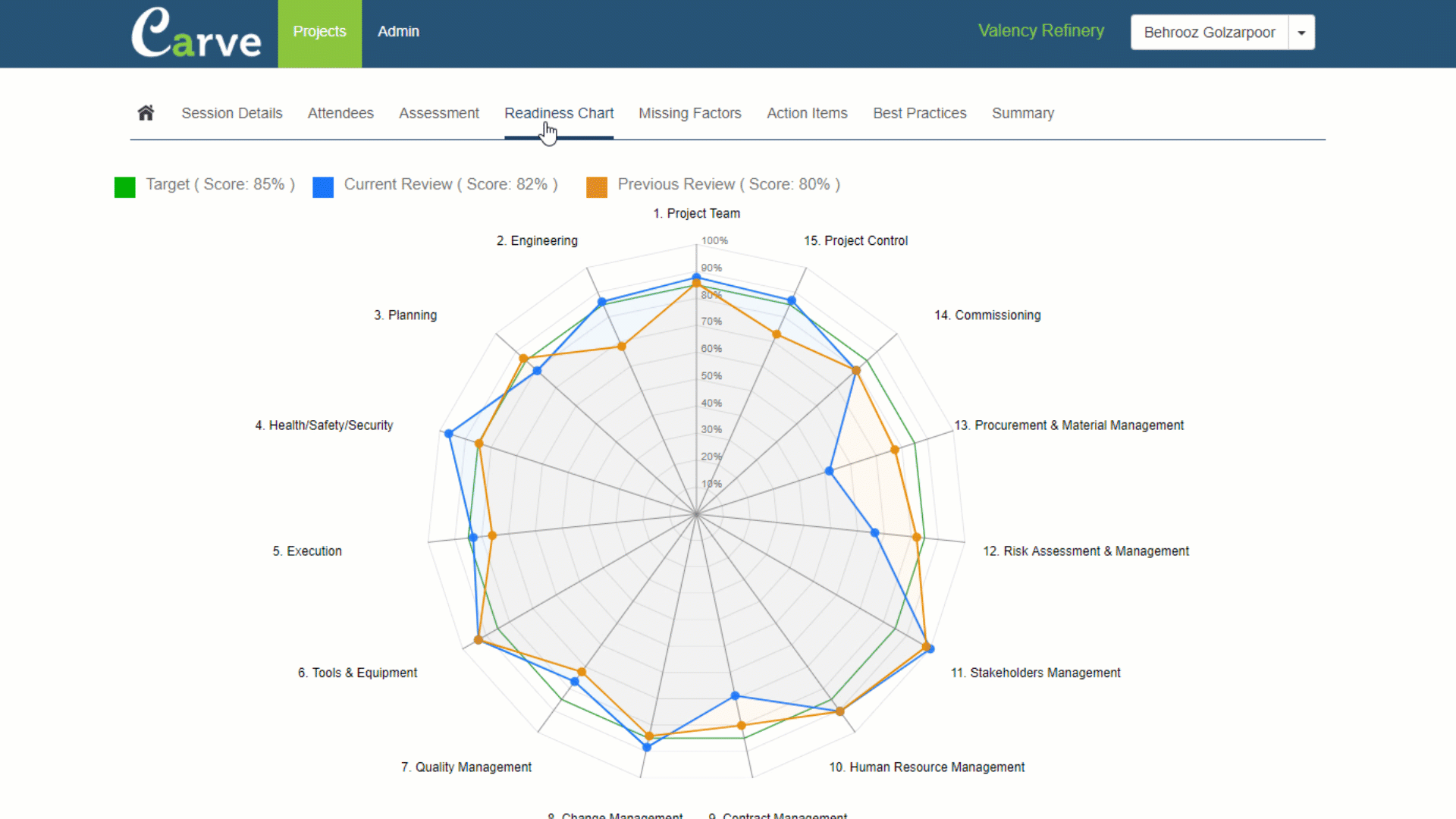 Clear & objective process to measure progress
Carve delivers clear, graphical indicators for each category within the Construction Readiness Assessment.
The Readiness Chart displays readiness in comparison to industry targets and also clearly illustrates the differences between the current assessment and the previous assessment so that you can see where progress has (or hasn't) been made.
Concise information that supports decision making based on facts
The assessment data can be filtered to see which categories require more attention in order to achieve readiness. In addition, action items can be assigned to each element to ensure follow-up.
Following the assessment, action items can be ordered by priority with a simple drag-and-drop action.
These action items are included in the summary report for project stakeholders to follow-up and ensure completion.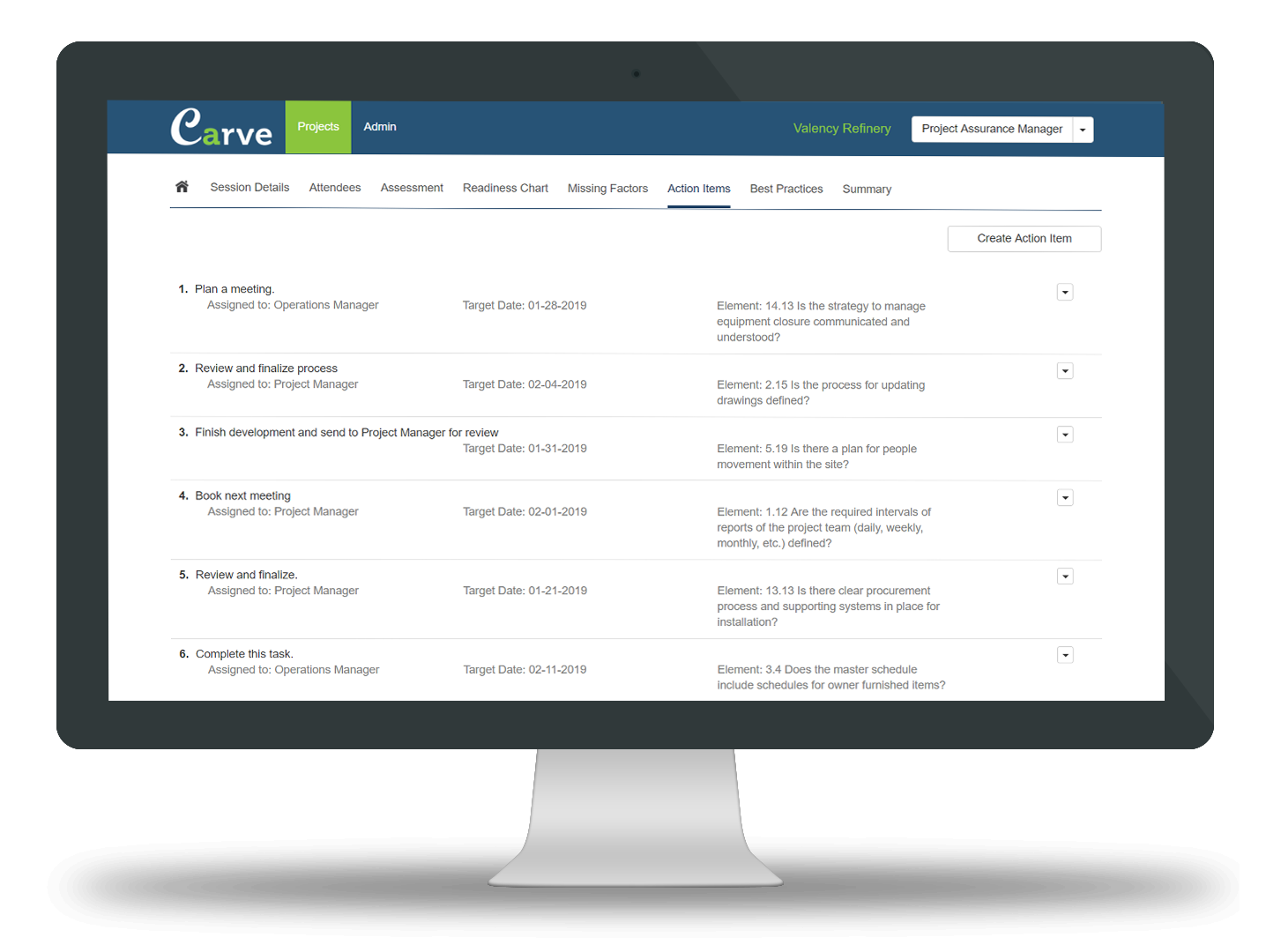 Carve for your Project Organization
Carve provides those responsible for your center of excellence or continuous improvement with a comprehensive insight into your construction readiness progress.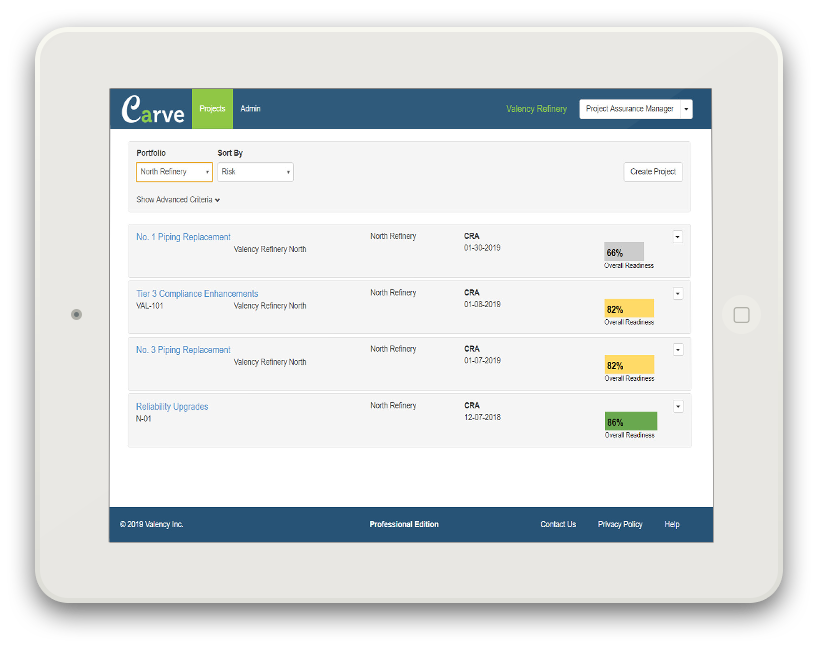 Manage assessment data within portfolios
You have the flexibility to create portfolios to which projects can be assigned allowing you to easily review the progress and risk level of projects at the portfolio level. 
Within the dashboard view, project leaders can monitor the progress of construction readiness assessment scores across all projects within the portfolio.
Customization options to support organization-wide adoption
Easily customize several aspects of the Construction Readiness Assessment to make it fit-for-purpose to your organization:
  The Construction Readiness template – to reflect your industry processes,
 terminology, etc.
  Labelling of project phases or gate deliverables
  Score ranges and colours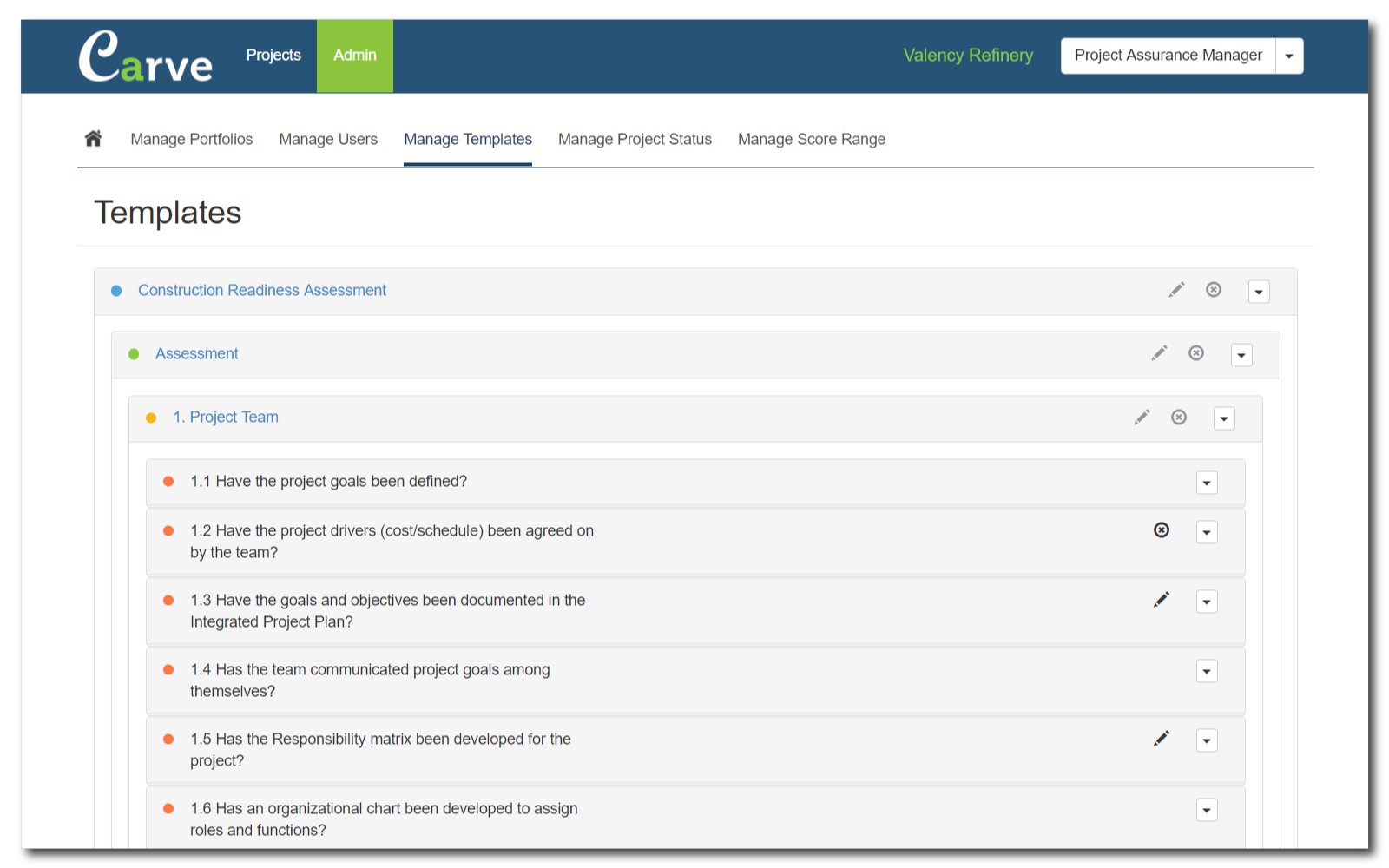 Benchmarking & Analytics for Construction Readiness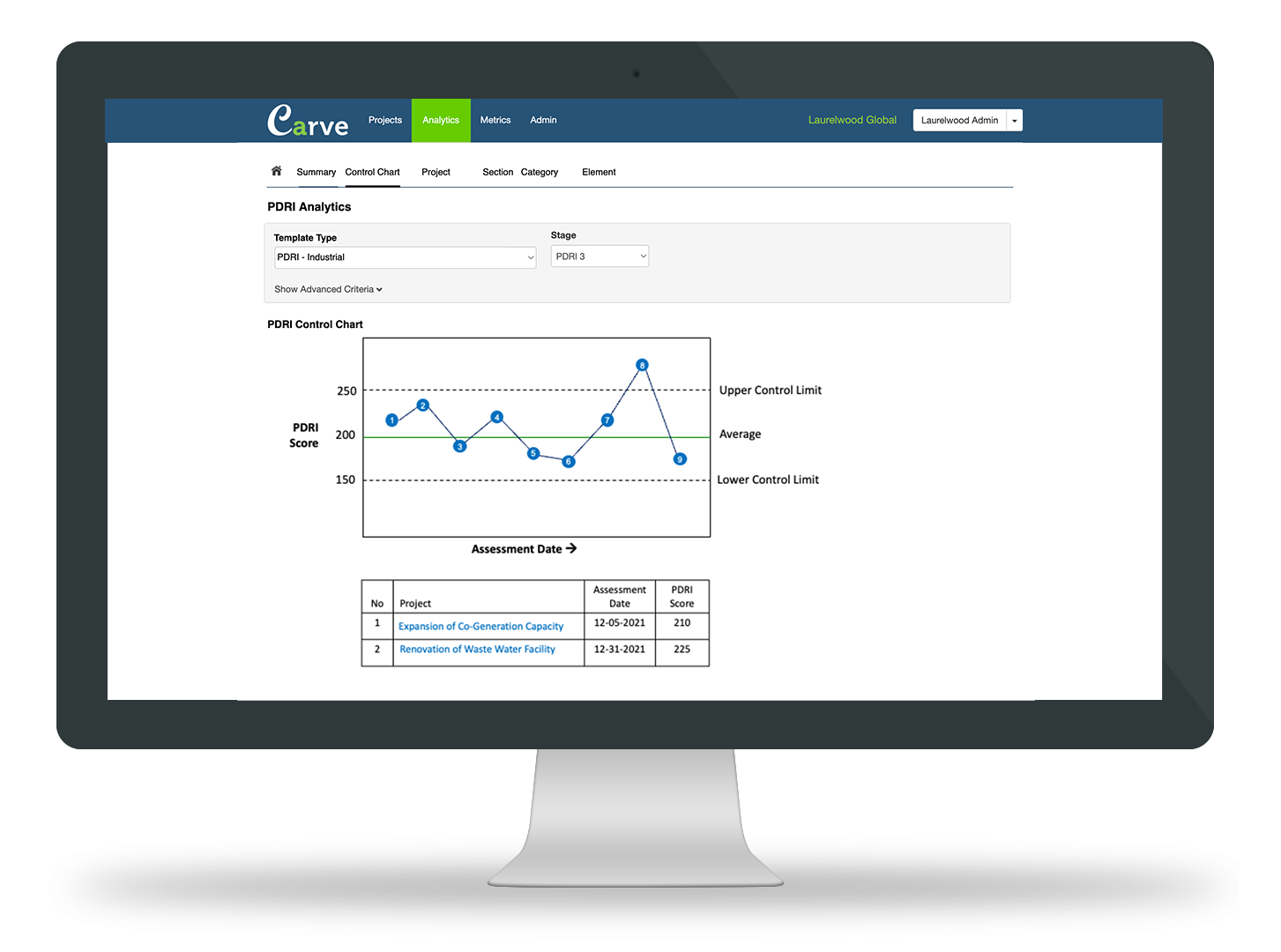 Monitor the variation of your project assurance processes over time.
If your organization is looking to better understand where there may be systemic issues in your Detailed Design and Pre-Construction stages,  the Control Charts in Carve's Construction Readiness module is a good starting point.
As your organization captures assessment data over time, the control chart will illustrate each assessment as sequential number plotted on the timeline. Portfolio managers can easily identify projects that are outliers and can quickly drill down to investigate areas of concern.
Average Readiness by Project Status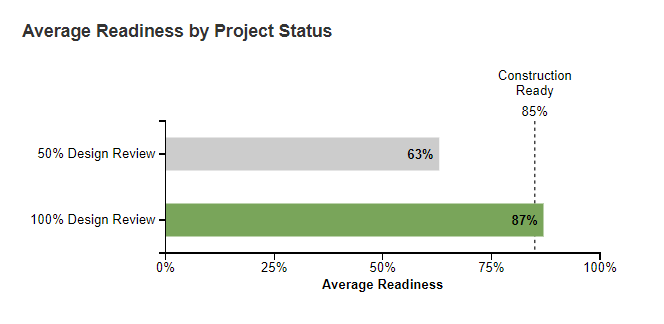 "What stage of the pre-construction process are we seeing challenges?"
CII recommends conducting the Construction Readiness Assessment starting early in Detailed Design (e.g. 50% Design Review) to help the project team identify gaps and allow sufficient time to take action. The assessment should be repeated at least once more, closer to the start of construction (e.g. 100% Design Review). This could be 15 to 30 days prior to the planned construction start.
At a glance, you can see whether your projects fall within the industry recommended score ranges at each stage of your process.
The timing of when you conduct a Construction Readiness Assessment will significantly impact the expected overall score range. (It is common for an early review to score lower than industry recommendation. At this stage, the assessment's value is in identifying the gaps that must be addressed to achieve readiness). CII has established a score of 85% or higher to be deemed construction ready.
Overall Readiness by Project
"How are my projects performing in relation to industry benchmarks and other projects of this type?"
Construction Readiness Assessments have a recommended score range of 85% based on industry benchmarks defined by CII. An overall score of 85% or higher indicates that a project is ready to proceed to construction.
This chart indicates which projects are not construction-ready based on their score at a given stage and gives an overall view of performance in comparison to similar projects at the same stage. Clicking on the project name allows you to drill down into the assessment details for further analysis.
This view can also be filtered to identify trends based on portfolio, project manager, client, project type, location, etc.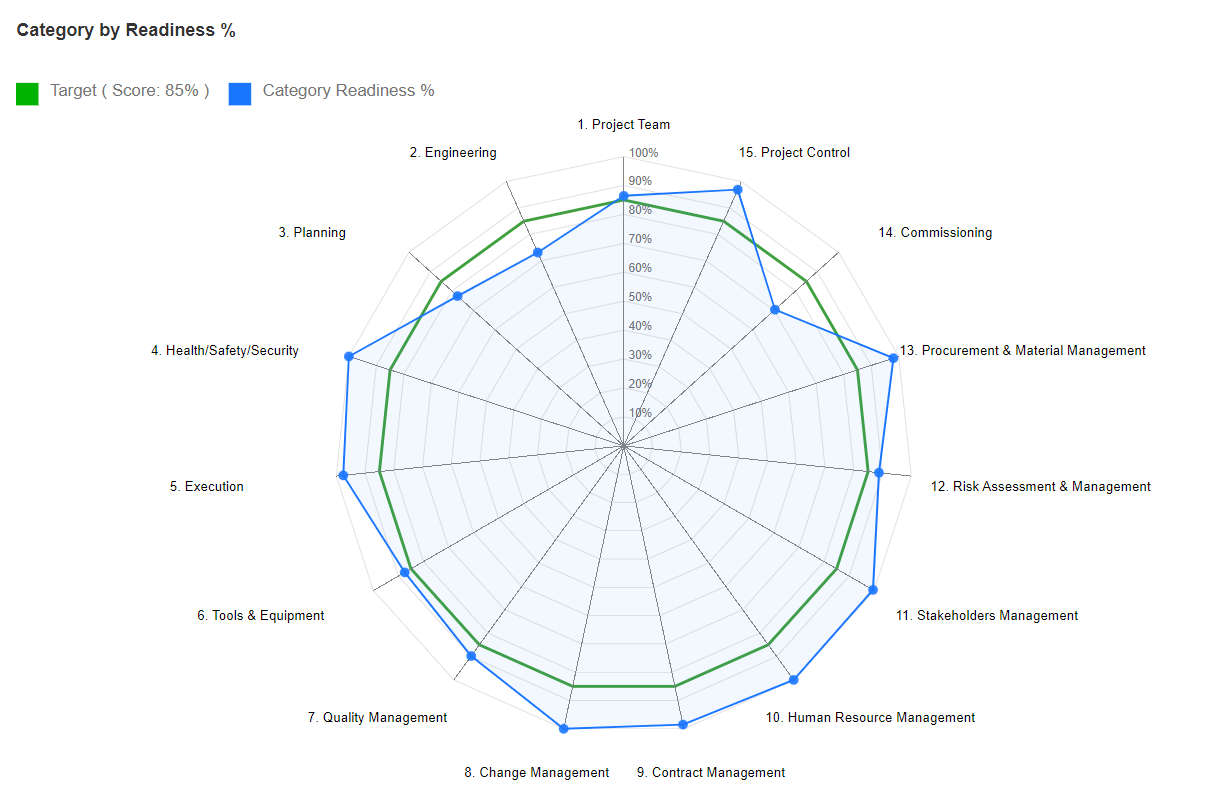 "What area of detailed design are we experiencing the most challenges?"
The Construction Readiness Assessment is divided into 15 categories and within each category there are multiple factors that are answered "Yes", "No", or "Not Applicable" by the project team during the assessment workshop.
Each category is scored as a percentage with the goal being a score of 85% or higher per CII recommendation.
Some examples of categories within the assessment include:
Engineering
Planning
Tools & Equipment
Change Management
Procurement & Materials Management
The radar chart allows you to quickly see at a glance which areas are not performing as expected providing you with a starting point for further investigation.
Missing Factors by Importance
"Which factors are showing the most risk?"
Each category within the Construction Readiness Assessment contains a set of factors. Factors are a series of questions answered by the project team such as:
Is there a sustainable plan to have Issued for Construction (IFC) drawings to support construction activity?
Does the project team include representative(s) from the procurement team?
Is there a system in place to align construction with commissioning and operations?
The options to answer are:"Yes", "No" or "Not Applicable".  If a factor is answered "No" it is considered a 'Missing Factor'.
Each factor within the assessment is weighted based on it's importance in contributing to construction readiness.
This report will show you those highly weighted (important) factors that are consistently answered "No" which illustrates the areas of your detailed design/pre-construction process that should be reviewed for improvements.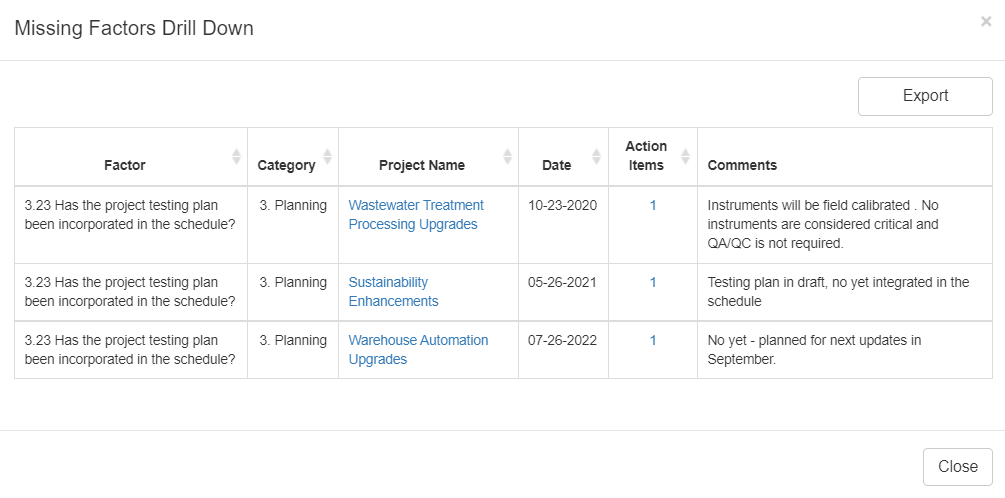 "Are there any commonalities that will help pinpoint a process or resource gap?"
The Construction Readiness Assessment is divided into 15 categories and within each category there are multiple factors that are answered "Yes", "No", or "Not Applicable" by the project team during the assessment workshop.
Viewing the Missing Factor by Importance report will help you identify which areas of the detailed design / pre-construction process need improving.
By clicking on the Factor (hyperlink), you can view the "Missing Factors Drill Down" which will display all the comments and action items for projects where the selected Factor was answered "No" so that you can see if there are any commonalities that might signify a process or resource gap to be addressed in your project process.
Features
Facilitator
Edition
Professional
Edition
Enterprise
Edition
Users
Up to 10
Unlimited
Unlimited
Projects
Tiered
Tiered
Unlimited
Project dashboard
√
√
√
CRA Templates
√
√
√
Prepare CRA summary report
√
√
√
One-step PDF summary report
√
√
√
CRA assessment dashboard
√
√
√
Export an assessment
√
√
√
User Management
√
√
√
Single sign-on (SSO) support
√
√
√
Email sharing of assessments
√
√
CRA template configuration
√
√
Portfolio Management
√
√
Analytics Dashboard
√
√
Submit API read requests
√
√
Deployment
Cloud
Cloud
Cloud
Support
Web/Email
Phone + web/email
Phone + web/email
Annual Subscription Pricing
Per Year (US$)
Contact Valency
Contact Valency

Contact Valency
Contact Us
We build certainty into your Capital Project Life Cycle.