Implementing best practices across portfolios,
we empower managers and directors
to retain control and confidence in the progress of their projects, making capital projects a source of excitement and growth — not anxiety and risk. Whether you are an individual or a group, we offer extensive services to align with your needs, spanning the full
capital project
life cycle.
This is where it begins.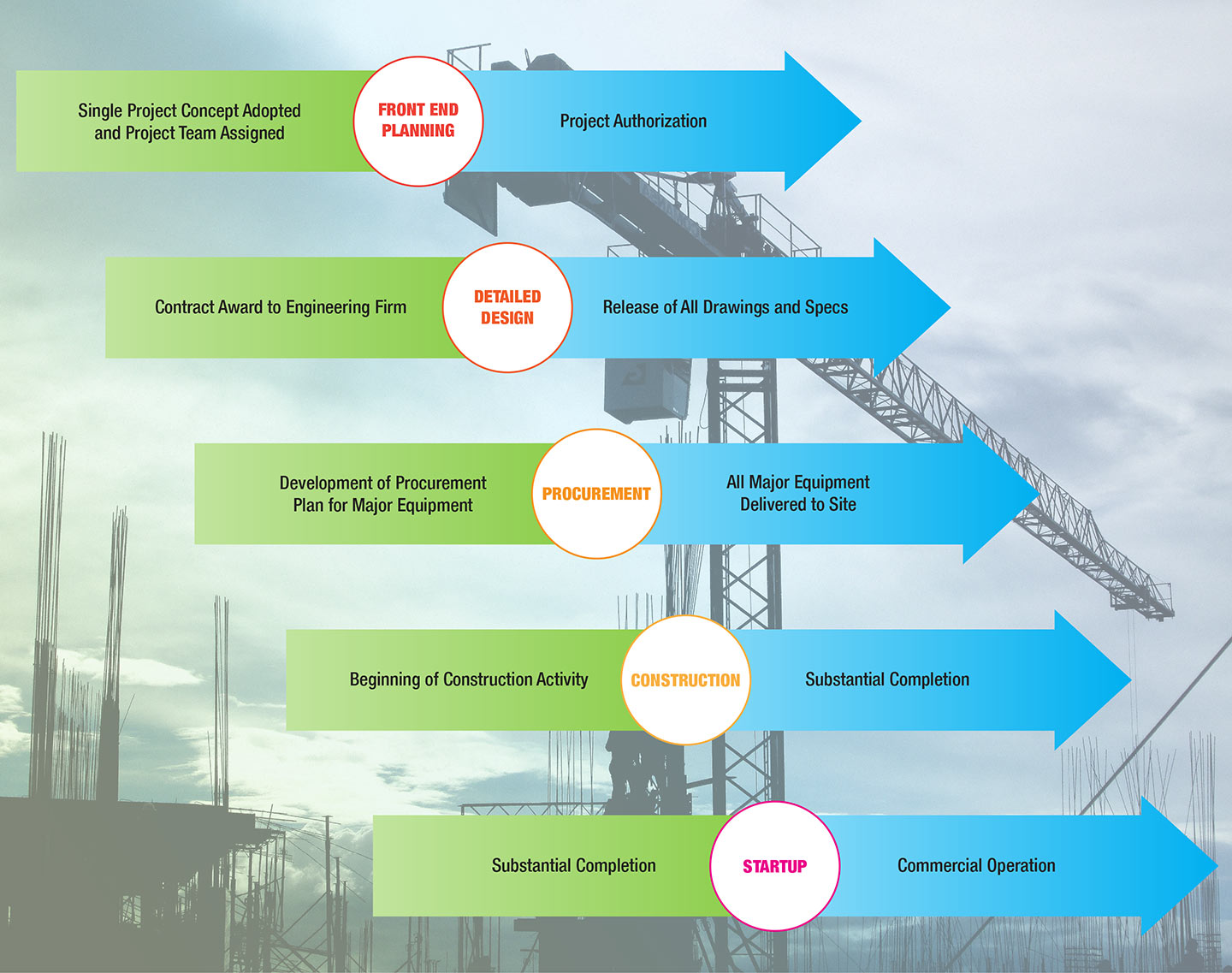 CII's Stage Gate process is proven to help Owners in:
Directing capital to the most strategic and beneficial investment opportunities
Maximizing the value attained through each funded capital investment
Controlling financial risk, and in any potential for reputational damage
Integrating those CII best practices which are proven to drive increased performance.
The 2010 CII Value of Best Practices Report showed that Owners with a high use of CII's core best practices realize a 7.5% cost improvement, and 9.7% schedule improvement compared to Owners with a low use of the same practices.
Implementation
Valency supports organizations in successfully implementing and gaining value from new practices and tools in construction project management.  Our advisors follow a proven, systematic approach to implementation with a consistent focus on managing organizational change throughout the entire process.

Valency's Implementation Process
Needs Analysis. Successful implementations begin by accurately defining the business case for the new practice and clearly articulating this need to your stakeholders.
Preparation. Introducing a new practice often results in changes. We evaluate the organizational impact of those changes, evaluate change preparation areas, and help you communicate those changes in a manner that minimizes resistance.
Pilot. Demonstrating that a new practice will deliver value is critical. In most cases, we recommend starting with a limited use pilot group or proof of concept that allows you to demonstrate that the new practice can achieve the intended benefits.
Growth. Building upon the success of the Pilot, we help you expand the use of the new practice beyond the pilot group to larger projects and additional groups or divisions.
Standardization. Often the most challenging but rewarding step is achieving standardized use of the practice broadly across the organization.
Benchmark. Every implementation should include a plan for measuring the performance impact of a new practice, and collecting the data needed to support benchmarking.
Education
Learn with Valency, at your own pace. Whether you are learning on an individual basis or as part of a team, whether you are familiar with or new to CII best practices, we have options tailored to meet your specific learning needs. Integrating industry-proven tools and methodologies into your organization:
Saves time and money, bringing certainty to resource deployment
Translates into added value for your organization, enhancing long-term return on your capital investment
Improves team coordination, among both cross-functional and siloed teams
Enhances overall organizational efficiency for future capital projects readiness
Facilitation
No agenda, just peace of mind.  Our roster of expert facilitators are passionate about helping capital project teams achieve success.  Our facilitators combine hands-on capital project experience with world-class facilitation skills to serve as a trusted, neutral third-party.
For strategic, high complexity or high risk projects, your organization can opt to engage Valency as a third-party facilitator to lead critical project activities including:
PDRI Assessments. Valency's Certified PDRI Facilitators are experts in the facilitation of PDRI assessments worldwide for industrial, infrastructure and building projects.
PDRI MATRS Assessments.  Our Certified PDRI Facilitators serve as expert facilitators of PDRI MATRS assessments for large, industrial capital projects.
Construction Readiness Assessments. Construction readiness is more than just a checklist, our expert facilitators will guide your project teams through the assessment to ensure a productive session.
Flash Track Readiness Assessments.  When faced with an emergency rebuild or immediate regulatory compliance, a flash track (faster than fast-track) delivery strategy may be your only option.  A Flash Track Readiness assessment conducted at project kick-off is a proven strategy to establish a flash track philosophy and identify capacity gaps.
Interactive Planning Workshops. Our Interactive Planning facilitators leverage decades of construction management experience to lead your team in establishing the path of construction.
Risk Workshops. Our consultants facilitate both qualitative and quantitative risk workshops for major capital projects spanning the mining, energy, oil & gas, pipeline and public sectors.
Partnering Workshops. Valency facilitates partnering workshops to assist Owners and Contractors in establishing partnering success criteria, project objectives, performance measures, communication and dispute resolution plans.
The Capital Project Life Cycle
To achieve substantial performance improvements, a formalized Phase Gate process is a foundational element. It is the only approach in the capital projects industry proven to work over the long term for $100M+ capital programs. The project life cycle is not just another process. Throughout a project's entire life cycle, various resources and capabilities come together for a temporary purpose, toward a common goal. At Valency, we believe capital projects should be a source of excitement and growth — not anxiety and risk. Providing tested services and informed thought leadership, we restore cost and schedule certainty to the capital project, empowering directors and managers throughout the entire project life cycle. Our life-cycle approach equips capital project teams to navigate the most significant barriers to project completion, keeping the project lean, agile, and adaptable to new variables. We restore certainty and predictability to that process through careful front-end planning principles and practices. When a project is thoughtfully initiated, resources are more effectively deployed, teams are more engaged, and risks are minimized. We offer a suite of end-to-end solutions and resources, including software tools, methodologies, and industry expertise to help organizations keep their projects streamlined, on track, and predictable. Our team excels in assessing an organization's overall process for managing projects and making recommendations to overhaul that strategy to ensure capital project readiness.
Front End Planning
Getting started and developing sufficient strategic information with which you can address risk and make decisions to commit resources is often the most challenging phase of the capital project lifecycle.

Valency provides an extensive range of services that can help you improve your front end planning practices including:
Assessment of your existing front end planning practices to identify opportunities to streamline and improve scope definition. We utilize the Construction Industry Institute's (CII) Front End Planning best practice as our basis of assessment.
Development of procedures, forms, checklists and templates to improve standardization and effectiveness of your front end planning practices.
Implementation of proven CII front end planning resources and tools including:

Project Definition Rating Index (PDRI) The Project Definition Rating Index (PDRI) is the most widely adopted methodology used by capital projects to measure the degree of scope definition, identify gaps, and take appropriate actions to reduce risk during front end planning. Learn More
PDRI MATRS PDRI MATRS (formerly known as FEED MATRS) is used by large, complex industrial projects to assess both the maturity of scope definition and accuracy of front end engineering design (FEED) in the detailed scope phase of front end planning. PDRI MATRS is based on the PDRI Industrial template, with select PDRI industrial elements used to measure the maturity of FEED. Learn More
Carve for PDRI Valency's Carve for PDRI is a cloud-based application that supports implementation of the PDRI methodology across an entire organization. Carve is a critical element in many PDRI implementations led by data savvy CII members and Fortune 500 companies. Learn More
Flash Track Readiness Tool The Flash Track Readiness Tool is an assessment tool for team's preparing to support time-driven projects that require a heightened degree of concurrent engineering, procurement and construction. Learn More
Alignment Thermometer The Alignment Thermometer is a survey tool used to help your project team identify and improve their performance in critical areas of alignment. The survey consists of ten simple statements related to project execution processes, culture, information and tools.
Shutdown Turnaround Alignment Review (STAR) STAR tool provides a method of assessing the alignment and preparedness of multiple projects to move forward into detailed design and execution of a shutdown, turnaround or outage (STO).
Front End Planning Toolkit The Front End Planning (FEP) Toolkit provides a visually-engaging representation of each phase of the front end planning process. We work with clients to customize dashboard templates to visually communicate the steps in your front end planning process, along with applicable tools and templates.
Cost Estimating
Cost Estimating is an integrated component of project planning. Timely and accurate estimates are vital for project success. The cost estimating process spans over the whole lifecycle of the project starting from project initiation with rough estimates, and continues to provide more accurate estimates required for the next phases.
Advanced Work Packaging
Advanced Work Packaging (AWP) is a best practice that substantially improves capital projects delivery by establishing a path of construction during front end planning. The path of construction is developed with a wholistic view of the project and guides the breakdown of project scope to best support workface planning in the field. Advanced work packaging (AWP) is the overall process flow of the project team's collaborative work to develop detailed work packages (engineering, procurement, construction, and installation work packages) with all the required drawings and materials, which provides the framework for productive and progressive construction. Research by the Construction Industry Institute (CII) and the Construction Owners Association of Alberta (COAA) shows that implementation of the AWP best practice improves labor productivity by up to 25% and reduces total installed costs by up to 10% resulting in safer, more predictable projects. Valency provides a number of services to support the implementation of AWP for both Owners and Contractors, including:
Introductory training on AWP best practices, including the roles and responsibilities of the owner, engineering, procurement and the contractor.
Assessment of your existing workface planning practices and information management tools to identify and prioritize changes needed deliver projects using AWP.
Facilitation of Interactive Planning Workshops to establish the path of construction for your project. Our facilitators leverage decades of construction management experience to assist your team in identifying and sequencing a complete list of construction work packages.
Implementation support for Advanced Work Packaging processes and information technology. Our team of consultants leverage their first-hand experience in the practical implementation of AWP to help you achieve the tremendous benefits available through adoption of this CII best practice
Risk Management
Effective risk management practices throughout the entire project life are critical if you want your capital projects to be a source of excitement — not anxiety. Following CII best practices, we are experienced in implementing best practices in risk identification, risk assessment, developing risk responses, and monitoring and controlling risk throughout the entire project lifecycle.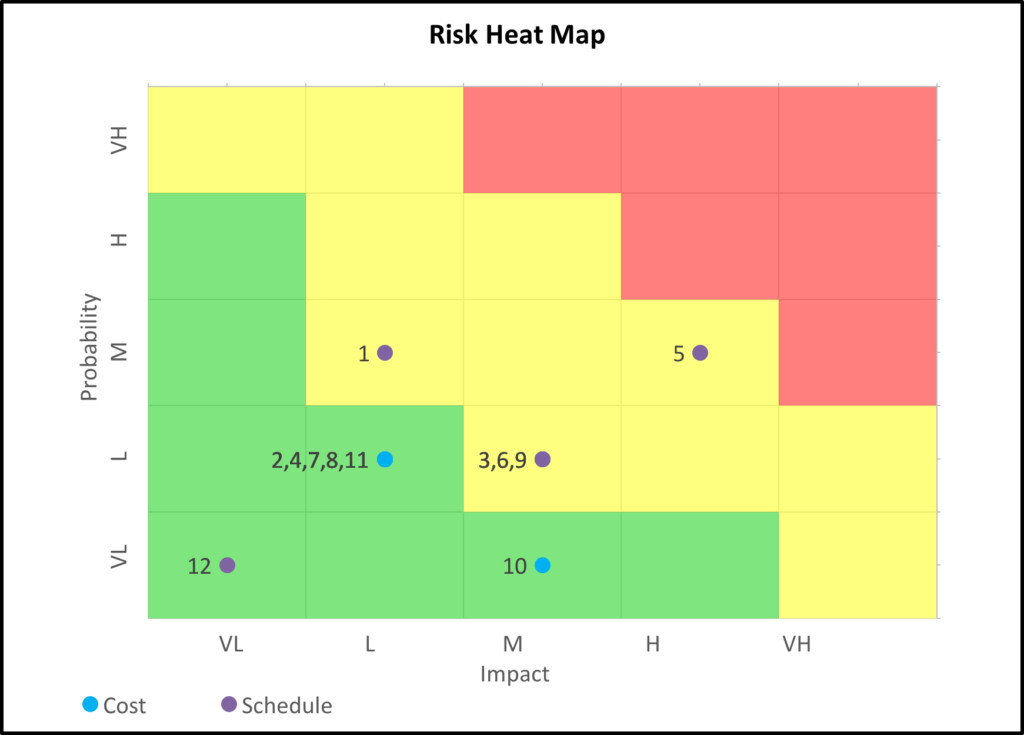 Our team of advisors can help your project organization adopt CII best practices in project risk management. Our risk management services include:
Assessment of your existing risk management practices to identify opportunities for improvement.  We utilize the Construction Industry Institute's (CII) Risk Assessment best practice, combined with the Project Management Institute's (PMI) Practice Standard for Project Risk Management as our basis of assessment.
Development of procedures, risk register templates and risk identification checklists to improve standardization and effectiveness of your risk management practices.
Implementation of proven CII risk management resources and tools including:

Probabilistic Risk Register A risk register toolset designed to help project personnel maintain an effective risk register appropriately based on project complexity. The toolset is aligned with CII best practices to support both qualitative (deterministic) and quantitative (probabilistic) risk management.
Risk Identification Checklist A comprehensive Risk Identification Checklist developed by Valency with over 150 of the most common risks in capital projects, compiled from 27 CII publications. This checklist can help augment your existing checklist, or start an internal risk identification checklist for your organization.
Integrated Project Risk Assessment (IPRA) IPRA is a structured risk identification tool that is ideal for large capital projects in unfamiliar jurisdictions. This facilitator-led tool helps a project team review common risk issues related to commercial, country, facilities and operations.

Facilitation of Risk Workshops. Our team has facilitated over 100 workshops for a wide range of project sizes and industry sectors.
Quantitative cost and schedule risk analysis. Our team of analysts has completed quantitative risk analysis using @Risk Monte Carlo simulation for capital projects valued at over $60 Billion in the mining, energy, oil & gas and pipeline sectors.
Training courses accredited with CII and Construction Management Association of America (CMAA).
Project Controls
Effective project controls are critically important to the successfully delivery of capital projects.  In today's environment, it takes a well-orchestrated combination of trained professionals, core project control processes, and leading indicators of project health to achieve predictable project outcomes. Our team of advisors leverage CII's extensive project controls knowledge base to help you achieve leaner and more reliable project controls processes. Our services include:
Assessment of your existing processes to identify gaps and opportunities for improvement. Valency's Capital Project Management Maturity Model (CPM3) incorporates project control best practices from the:

Construction Industry Institute (CII)
AACEi
Project Management Institute (PMI)

Training on core processes to achieve consistency in application across your entire capital program:

Cost & schedule estimates
Cost & schedule control
Risk management
Change management
Earned value management
Forecasting
Project status reporting

Implementation of the Project Health Indicator, an assessment tool that helps project teams identify potential project health issues early in detailed design and construction. Leading indicators that are proven predictors of project success through CII research complement traditional "lagging" project control metrics.
Development of procedures, internal benchmarks, process automation and checklists for leaner and more reliable project controls processes.
Portfolio Management
Valency's team of advisors help portfolio managers implement processes and metrics that are proven to be most effective for managing a portfolio of capital projects.  We focus on gaining alignment and buy-in from stakeholders to overcome traditional barriers to adoption of portfolio management.  CII research provides valuable guidelines to achieve consistency in processes across an entire portfolio in the areas of:
Resource management
Financial management
Risk management
Performance management
Construction Readiness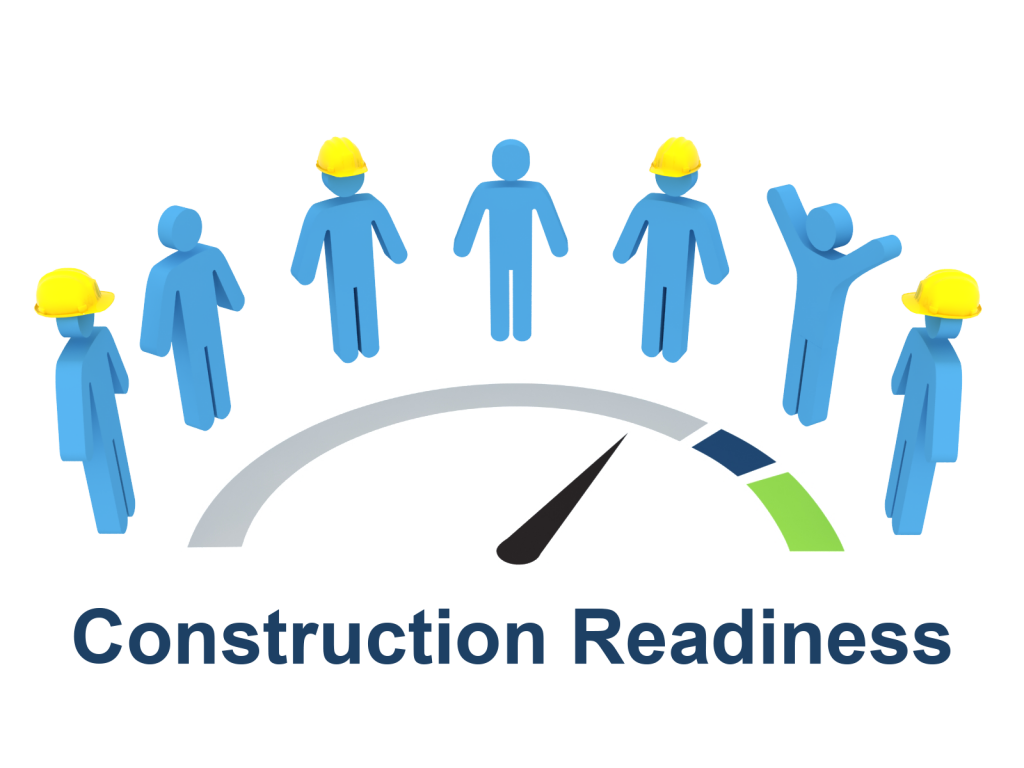 On-time delivery of capital projects is a key priority for most owner organizations. We strive to start construction on schedule, in spite of delays in Front End Planning or delays in the completion of design deliverables. However, this can lead to premature construction starts which are the source of costly interruptions and holds during construction. Premature starts adversely affect overall project cost, schedule, productivity, and introduce costly rework and change to the project. The Construction Readiness Assessment (CRA) supports a comprehensive assessment of the activities and procedures that should be completed (or substantially complete) prior to construction in order to productively start and sustain construction operations throughout the project timeline. Valency provides implementation, training, and facilitation support for the Construction Readiness Assessment.
Construction Productivity
Productivity is the catalyst to achieve more while spending less, and it is vital to remain competitive in today's market. The construction industry is known for low productivity, but CII's innovative best practices and tools provide opportunities for productivity improvement that was inaccessible even a decade ago. Valency offers a broad range of CII productivity practices and implementation tools at the craft, project, and corporate level. Effective use of these practices is proven to increase productivity in your capital program.  Valency advisors are experts in productivity improvement with services including:
Assessment of your existing processes and practices to identify opportunities for productivity improvement. A number of techniques are used to measure productivity, analyze productivity barriers, and recommend improvement strategies including:

Process and practice assessments using Activity Analysis and Five-minute Rating
Interviews and Surveys using craftsmen questionnaire, foreman delay survey, and voice of craft worker
Process and Resource Mapping using crew balance charts and flow diagrams

Development of implementation strategies for productivity improvement practices, depending on the phase of the project, objectives, and project conditions.
Implementation coaching on CII's proven productivity improving best practices, resources, and tools:

Best Productivity Implementation Index (BPPII) for Industrial Projects
Construction Readiness
Rework Reduction
Workface Planning and Advanced Work Packaging (AWP)
Materials Management
Activity Analysis
Corporate Best Practices for Productivity Improvement

Facilitation sessions for assessment of productivity practices and identifying productivity barriers using BPPII, construction readiness, workface planning, and others.
Activity Analysis
Activity analysis is an objective, undisruptive, statistical method for measuring productivity of craft workers by categorizing and measuring their time spent at work. It relies on random, instant observations to determine the percentage of craft workers direct (wrench time), indirect, and non-contributory work. Valency follows CII's Guide to Activity Analysis to lay the foundation for using Activity Analysis for improving labour productivity. Valency provides the tools and templates, and enables rapid implementation with advisory, training, and mentoring services. This is done through a process with the following steps:
Planning activity analysis methodology specifics, including activity classifications, craft identifiers, schedule of random observations, areas and random routes, data collection methods and tools, minimum sample sizes, and duration of the study
Training and onboarding observers, conducting consistency reviews, and calibrating observations among all observers
Data collection using random observations and baselining the results for measuring improvements by comparison with the next phases results
Analysis of data, making required adjustments, and preparing data for drawing insights
Improvement planning workshop to discuss findings in a facilitated workshop, and identify and prioritize opportunities for improvement
Implementation of improvements as a project management practice to improve the craft productivity
Continuous improvement with the next phases and comparing the results with the baseline
Valency uses this process as an enablement practice for its clients; not only to train and mentor them in baselining and measuring their craft productivity, but also to enable them to continue implementing this practice internally in their organization using the process, tools, and resources provided.
Lessons Learned
Valency provides implementation and training support that helps clients move from a Lessons Learned (LL) program that is a "good idea, but an unmanageable database of information" to a Lessons Learned program that drives dramatic performance improvements in your capital program. We follow CII's Lessons Learned best practice to help you implement critical elements of a high- impact Lessons Learned Program including:
Leadership
Lesson Collection
Lesson Analysis
Lesson Implementation
Resources
Maintenance and Improvement
Culture
Commissioning & Startup
Delivery of a successful project depends on successful project commissioning and start-up.  CII offers a wealth of resources that Valency utilizes to provide guidance on commissioning and startup best practices that will help achieve operational performance expectations. Valency advisors work with clients to implement critical success factors for commissioning in startup including:
Identifying critical interfaces on revamp or brownfield projects
Ensuring adequate funding for commissioning and startup activities
Commissioning & Startup planning
Alignment between the Commissioning, Project Management, Operations, Engineering, and Construction representatives on commissioning and startup issues.
Development of checklists, procedures and tools
Schedule integration of construction, pre-commissioning and commissioning activities
Establishing systems/subsystems acceptance criteria and deliverables
Transitioning to a systems-completion basis for tracking progress
Contact Us
We build certainty into your Capital Project Life Cycle.