The PDRI for Mining template addresses complexities specific to new (greenfield) mining projects including considerations for remote locations with limited infrastructure, uncertainty of site conditions, geo-political risk, and environmental constraints.
Mining projects include structures above ground and under ground. In addition, the site often requires development of infrastructure (roads, shelter, utilities, etc.) for workers, and for transportation of materials (railways, pipelines, etc.).
Key Characteristics
Characteristic
Mining
Primary Designer
Mining, geotechnical, civil,
mechanical, electrical, process,
industrial
Project Orientation
Vertical and horizontal
Interface with Public
Extensive
Environmental Impact
Extensive
Primary Cost
Geological investigation, earthworks, mechanical equipment, associated structures
Installed Equipment Cost
Extensive
Land Cost
 High
Jurisdiction Interface
 Extensive
Reference: "Project Definition Rating Index for Mining Projects," Final Report: FR-366, Construction Industry Institute, 2020
---
  Top Ten Elements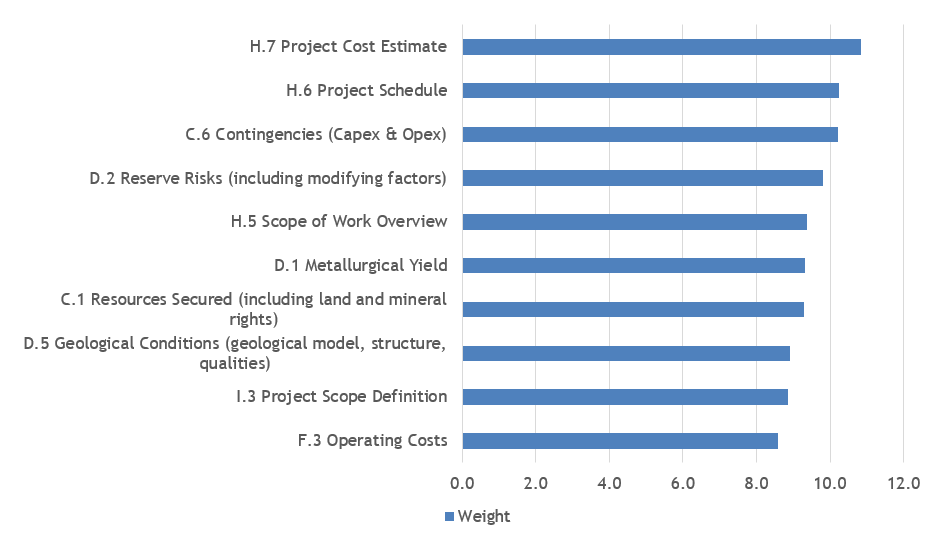 ---
 More information about PDRI:
White paper: Introduction to the Project Definition Rating Index
Webinar: CII Debuts New Tool to Improve Capital Projects in the Mining Sector
Contact Us
We build certainty into your Capital Project Life Cycle.