PDRI for Manufacturing & Life Sciences (MLS)
Where is PDRI for Manufacturing & Life Sciences used?
The PDRI for Manufacturing & Life Sciences (MLS) template is a hybrid of the Industrial and Buildings template. It is designed for projects with both process and building programming scope. The MLS template includes specific considerations for technology (enterprise and control systems), regulatory compliance, extensive commissioning and environmental controls.
Compared to the PDRI for Industrial template, the PDRI for MLS template includes 13 additional elements that fall under section 2 (Basis of design):
Category H. Building Programming & Design Parameters
Category K. Enterprise & Control Systems
In addition, Section 3 (Execution Approach) carries a significantly higher weight (223) compared to the same section in PDRI-Industrial (78). This is in line with adjustments made to PDRI templates published since 2011 where further research showed that a well-defined execution approach was closely linked to successful project outcomes.
Key Characteristics
| | |
| --- | --- |
| Characteristic | Manufacturing & Life Sciences (MLS) |
| Primary Designer | Process Engineer, Architect |
| Project Orientation | Vertical |
| Interface with Public | Moderate |
| Environmental Impact | Moderate to Extensive |
| Primary Cost | Piping & mechanical equipment |
| Installed Equipment Cost | Extensive |
| Land Cost |  Variable |
| Jurisdiction Interface |  Moderate |
---
 Types of Projects
The elements in this template have been added / updated to address the critical scope definition needs of capital projects with the following features:
Involve manufacturing of products within a facility
Include both process and building related design elements
Follow a rigorous commissioning and qualification process
Operate in a highy regulated environment (e.g. FDA, OSHA)
Make extensive use of enterprise and control systems for business and process automation
Adhere to strict environmental controls
Some examples are projects that involve the manufacturing of pharmaceuticals, automobiles, high-tech electronics, food, beverages, agriculture products, pulp and paper, and consumer products.
---
 Top Ten Elements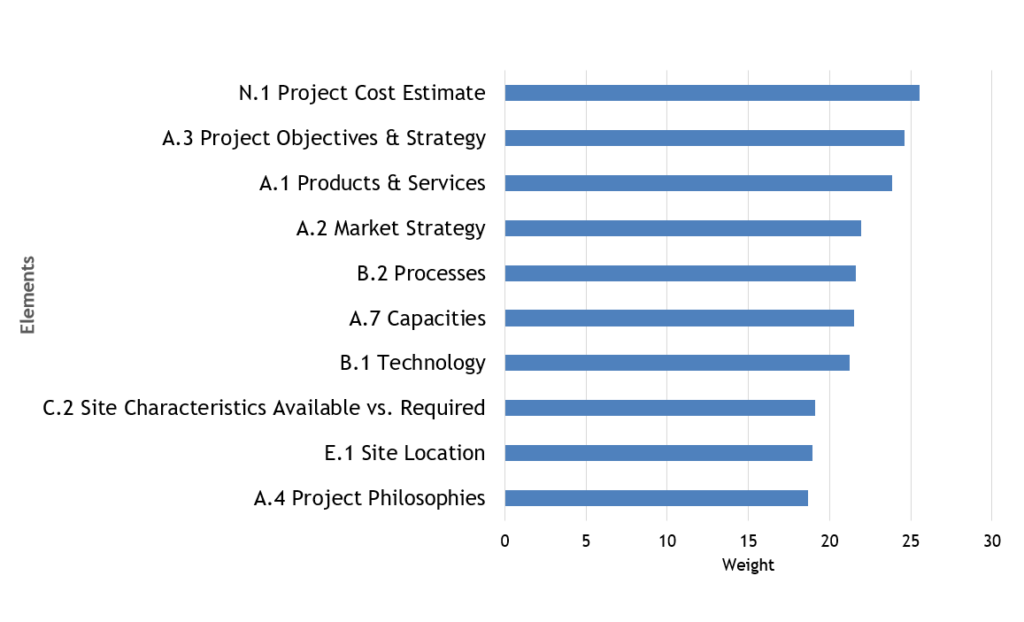 Research Team MLS-02 Presentation of PDRI for Manufacturing & Life Sciences (MLS) at the 2018 CII Annual Conference
Contact Us
We build certainty into your Capital Project Life Cycle.