FEED MATRS Principles & Practices (VAL-116)
Course Outline
Course Summary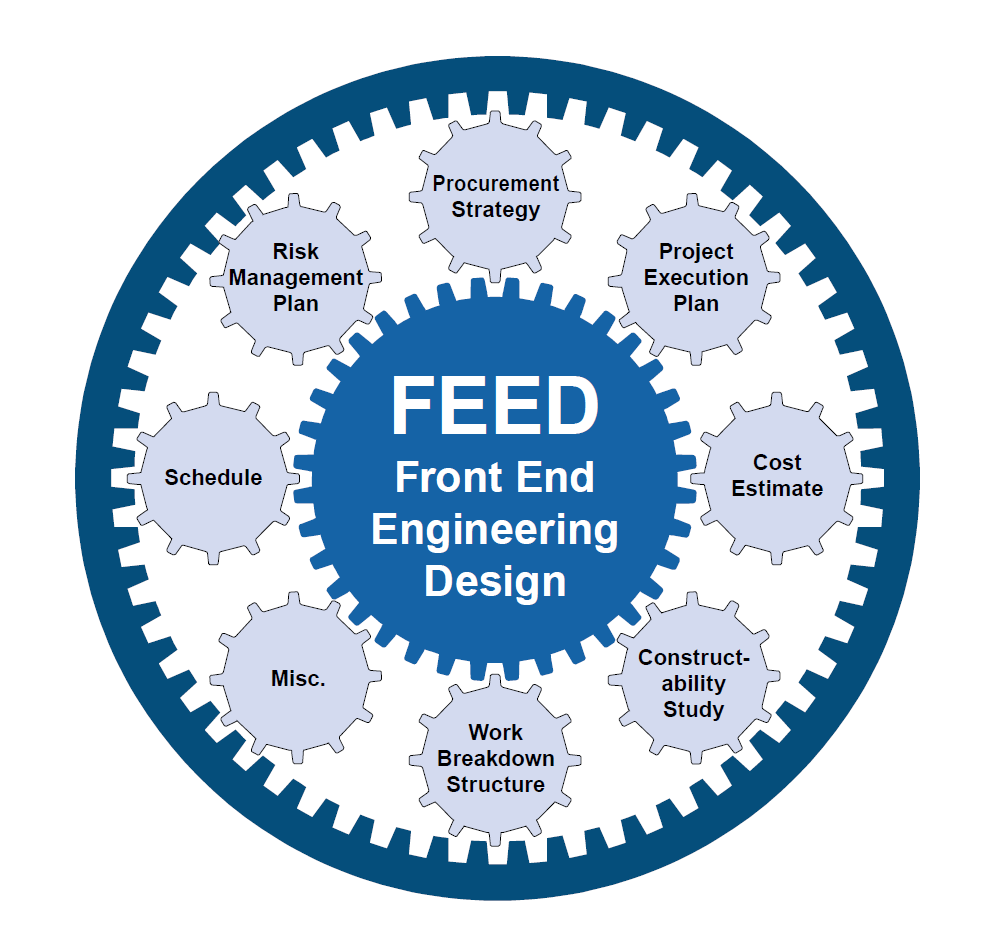 FEED MATRS Principals & Practices is a one-day course that offers participants the opportunity to learn how to facilitate project assessments using CII's Maturity and Accuracy Total Rating System. FEED MATRS is a tool used in front end planning to achieve substantially improved performance in capital project cost, schedule and delivery against operational asset business objectives. The course provides lessons learned on how to achieve increased team alignment, identify gaps and risks, and objectively measure the maturity and accuracy of FEED deliverables. Recommended facilitation techniques are explained, as well as roles, responsibilities and logistics of conducting a FEED MATRS session.
Learning Objectives
At the end of this course participants will be able to:
Explain the FEED MATRS methodology and benefits to their project organization
Understand the relationship between FEED MATRS and PDRI Industrial
Recommend when a FEED MATRS session should be conducted in front end planning
Understand the roles, responsibilities and logistics for a FEED MATRS session
Apply best practices in facilitating a FEED MATRS session
Understand how to fully utilize findings – both maturity and accuracy – from a FEED MATRS session to improve project performance
Set expectations with senior stakeholders of how FEED MATRS will improve communication of risk
Who Should Attend
This course targets project stakeholders involved in front end planning. Past attendees include Program Managers, Project Managers, Design Managers, Designers, Construction Managers, Technical Managers, Project Estimators and Schedulers Business Unit leaders, Site Supervisors, Project Finance personnel, Operations leaders, Contract Administrators, Maintenance Managers, Risk specialists, Procurement professionals, Materials Supervisors, Quality specialists, Legal, Project Controls analysts, Engineers and Planners, Information Commercial Managers, Cost Engineers, Quantity Surveyors, Health & Safety professionals and others.
Course Outline
Introduction
Overview of course objectives and agenda
Interactive exercise – participants will complete a poll on the level of maturity of scope definition in their organization.
Introduction to FEED MATRS (Maturity and Accuracy Total Rating System) and its role in improving project performance
Relationship with PDRI Industrial.
FEED MATRS Methodology
Introduction to front end planning
Structure of FEED MATRS – PDRI Industrial elements, maturity elements (subset of PDRI Industrial) and accuracy factors
Application during front end planning stages
The assessment process
FEED MATRS definition level criteria
FEED MATRS Score – Maturity Score (completeness of FEED Deliverables) & Accuracy Score (confidence in development of FEED Deliverables)
How a FEED MATRS score differs from a PDRI score
Measuring progress of scope definition
Preparing for a FEED MATRS Session
Who should attend?
Specific benefits for

Business unit leaders
Cost estimators
Scheduler/planners
Risk managers
Engineering contractors and consultants
Shutdown/turnaround managers
Procurement managers

Session roles, responsibilities and logistics
Characteristics of great facilitators
Background materials to provide a facilitator preparing for a FEED MATRS session
Interactive exercise – using a case study, participants will apply the fundamentals of risk management to identify risks and prepare for a FEED MATRS session.
Conducting the FEED MATRS Session
Recommended techniques to ensure consistency in the element review process
Using the low definition element list
Creating effective action items
Importance of the executive summary
Comparison of total score to industry and internal benchmarks
Putting the final FEED MATRS report to use
Importance of a debrief session
Sharing FEED MATRS results with senior stakeholders
Interactive exercise – using a case study, the group will participate in a Mock FEED MATRS session. Each participant will be assigned a role from the project team and provided with behavior hints. The instructor will facilitate the Mock FEED MATRS session. The group will assess a range of elements and practice behaviors that encourage open and honest communication, identifying gaps, capturing relevant comments, and assigning a definition level.
Lessons Learned on Increasing Alignment
Using an early review to increase project team alignment and understanding business objectives
Using FEED MATRS to increase alignment between owners and contractors
Leveraging FEED MATRS to communicate known risks when a project handover occurs after FEL-3 (detailed scope stage)
Summary
Revisit the group's poll results on organizational maturity of scope definition
Review how FEED MATRS can be applied to improve scope definition and project performance
Discuss important "take-aways"
Conduct course evaluation
Certificate
The course is conducted by Valency, a Registered Provider for the Construction Industry Institute (CII) and a Registered Education Provider (REP) with the Project Management Institute (PMI). A certificate of completion for 7 Professional Development Units (PDU) credits (PMI, Strategic & Business) will be issued to those who attend and complete the course.