Introduce PDRI with best-in-class classroom training and hands-on application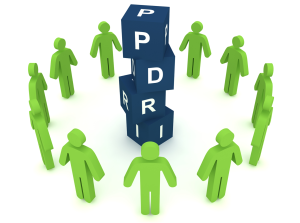 The PDRI Roadmap to Success program is client-specific, tailored to the specific needs of your capital program. Our key objectives are to ensure:
• Your team has a strong understanding of how to utilize PDRI in front end planning
• Your facilitators are trained for success with PDRI facilitation best practices
• Your organization leverages "lessons learned" from decades of PDRI implementations around the world
Highlights
A – Classroom Training
The first step in the program is our two-day workshop, specifically tailored to your capital program needs.

C – Remote Implementation Support
We help keep you on the roadmap to success by providing ongoing remote support and coaching for you PDRI facilitators and implementation team during the first 12 months of rollout.
B – PDRI Facilitation
The next step is to immediately apply PDRI to a cross-section of your projects with the support of a Certified PDRI Facilitator. Your facilitator-in-training is also engaged as a co-facilitator (scribe).

D – Carve for PDRI
We include a 12-month subscription to Valency's Carve for PDRI, Facilitator Edition. This is a simple and visual application that makes PDRI engaging for all project stakeholders and provides tremendous efficiency for facilitators.

Participants will receive 14 PDUs from this CII and PMI accredited workshop.
Sectors
The PDRI Roadmap to Success program has benefited capital projects in the following sectors:
Oil & Gas
Petrochemicals
Mining
Steel Manufacturing
Pharmaceuticals
Water & Wastewater
Cities & Municipalities
Government Agencies
Implement Today
Call us today to discuss how Valency can help you to improve team alignment and reduce cost and schedule overruns. PDRI is your Roadmap to Success.