Project Managers, Planners & Cost Estimators – CII Needs Your Help!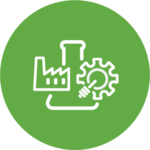 The Challenge
The Project Definition Rating Index (PDRI) for Industrial and Building projects have been highly effective tools for improving scope definition and team alignment for many organizations for over 20 years. However, the manufacturing and life sciences industry has evolved significantly, and a single PDRI tool addressing both industrial and building requirements is needed.
CII's Manufacturing & Life Sciences sector (MLS) committee has funded an Advanced Development Research team to accelerate continued innovation in front end planning. A new PDRI template has been developed to maximize the effectiveness of PDRI for this sector. Specific areas addressed include:
Projects that include industrial and building scope
Commissioning, qualification and validation plans
Enterprise and control systems
Loss prevention considerations
IT and communication considerations
Air Flow and Instrumentation Diagrams
Containment
Process and mechanical test plans
Facility portfolio coordination
Project controls, aligned with the latest CII research
The Opportunity
The PDRI for MLS template is ready for review by industry experts.
The PDRI for MLS Research Team invites professionals from any organization involved in manufacturing & life sciences capital projects, to join one of our upcoming review workshops to help determine which defined elements could have the greatest impact on the overall project success through a weighting of each element.
Free Workshop Registration Options
Aug 30, 2017 – Indianapolis, IN
8:00 am – 4:00 pm EDT
MQ Learning Center
2301 Executive Dr,
Indianapolis, IN 46241
Sep 14, 2017 – Virtual Workshop
8:00 am – 4:00 pm EDT
Adobe Connect Session

Benefits to Participants
Provide your expert input on element weightings for this innovative tool
Receive a beta version of the PDRI for MLS template (planned for Fall 2017) and a free version of the final PDRI for MLS template published by CII
Earn 7 professional development units (PDUs)
Additional Questions
For more information, call +1 519.883.7136